Bonjour to the nether regions I call my humour! I believe it has returned and this lad agrees too!
You rock my world Creshy!
That lads been eating biscuits of the sports variety all week and I doubt he'll stop on my account! I've been thinking a lot about this week about my Nanna and her movements of the toilet kind! She likes to eat dinner out of the pan.
Me Nanna
She smells like a government experiment gone wrong and I sure do appreciate that. I thought I'd throw in some edible facts about her
She likes eating lit matches and C.D cases

She puts the cid in acid

She once slept with Tony Blair's suit

She is single boys so form an orderly queue
In the 60's she fronted the overtly political band Hot Wax. The band were destined for great things when their album Socialite reached the top of the pop charts followed by the deliciously moist singles Soiled Me Sen & Moody Blues, Wipe Your Shoes.
This cover kinda sticks a finger up at the system don't you think? I think it also questions the attitudes of the 1960's listener aswell. Mind, that's just what I think.
The band carried on well into the 1970's and their string of hits continued with songs such as Albert's Lost His Trousers, Defecation & Decay, Grass and Wickets = Lets play Cricket and Drainage Systems Overflow
In the 1980's the band went down hill and she became a shadow of her former self. She began releasing her own material under the guise of Janet Velvet. Her debut solo album, Marmalade Minge, fell into the bin marked bargain on release. Sadly it was no bargain. She began prostituting herself around the market stalls of Britain, selling her music on the brand new format of tape. However a re-release of the B-side Oooh I've Wet Me Kecks! has pushed nanna back onto our ears.

He slept with Nanna and it did him no harm
I posed a few questions for Nanna and below you can read the moist results!
Q. Nanna, hi. You've had a varied life off stage, divulge
A. Yes well in the old days I coined the phrase 'Up to me nuts in guts' as the majority of the time I was! I once sat and sank a few gins with Jimi Hendrix back in the day. In a way I taught him how to play his guitar.
Q. Great. Who was your favourite celebrity back in the day?
A. (Guffs loudly) That's gonna leave a skid by the sounds of it Crust! I liked Howard Marks as he often had a large quantity of Hashish for your nanna. Your mother was born due to my paying for smoke!
Q. Is there a come back on the cards?
A. I'm currently working with Greetings George on a new single. It kind of has a tribal, hip hop, drum and bass feel to it. The working title is Squeeze a Brother For The Pan. As I say it's only a working title. I'm also doing a live show supporting Feeder on their Dr Wet Legs Tour.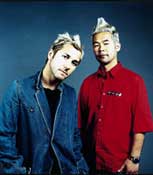 Pure Rock Values
Well that's it! That's me Nanna! She's a from the golden age of syrup and when she dies, we'll store her in a jar marked Brine! Thanks for coming and pay a visit soon!