Question time again folks! Who's in the seat that is piping hot this week?!
We've only got very special guest Ian 'Beefy' Botham in!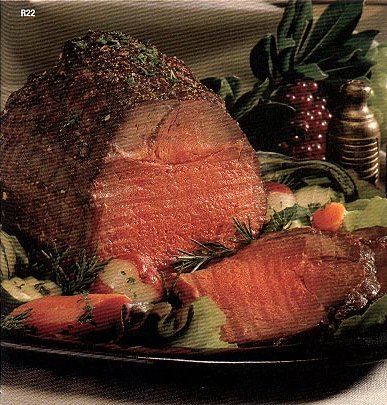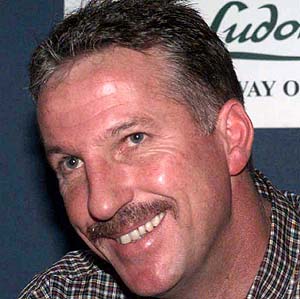 Separated at birth?
Ok readers were gonna get straight on down into questioning one of British Crickets all time legends. I'm sure there has been moments when you've wished for such an opportunity as this. Tough luck. Read on.
1.This one has been a pencil scratcher of mine for minutes 'Beefy'. Can I call you that?
A. Botham. 'Is that the question? If so, yes I do mind. I'm ready to crash a tab war on the bar. Fancy a burn?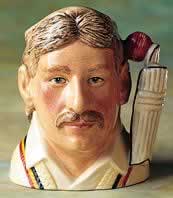 1. Not the question and yes in the response to the tabbathas. Ill have 3 Rothmans please. Burn like bricks but heave like mirrors. Anyway Mr Botham, What is you favourite bar warmer?
A. Botham. 'It would be Brandy. The air breathes her to perfection.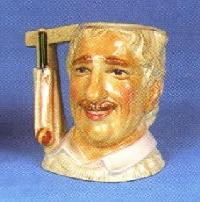 2. Hows the air up there?
A. Botham. Tepid. Imagine Chickens on acid. Mix it with water and you've got 'The Beef's' air.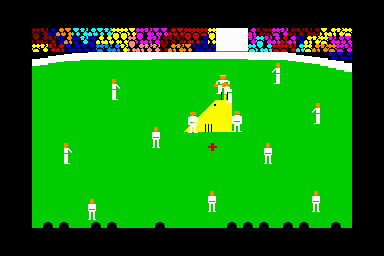 Ian Botham in his greatest test match game. He's the one in white with orange hair.
3. What is the preferred choice of the cutters?
A. Botham. I'd say out for a duck and don't answer me back.
A Pensive Ian.
4. If bowling with Martha Stewart what would style would you play?
A. Botham. I'd probably play on the defensive to start with. Stewart's a bit of a googley so it's best to feel her out before going for a bit of aggressive play! Plus Stewart has played the old backhand Kenneth on most of us!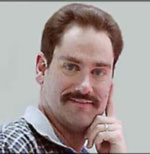 5. Who is worth more in a raining situation? Pat Sharpe or Neil Bucchanan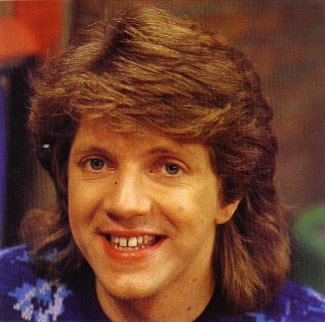 A. Botham. Well we all know that Pat only has one string to his bow. In that he can only have fun in a gunge filled inflatable world. Neil can do that (Finders Keepers) and if all else failed and the rain persisted to dampen my mood. Neil would take my chip paper and coat tails and make an Czech sunset. That's what is all about with Neil.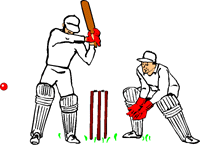 5. Ian, You've been through a lot in your life. You've enjoyed the highs and lows of the celebrity life aswell as being a cricket icon to many. What was the point?
A. Botham. Well I think when my life is over I may well be still remembered in the media circus. What about you Cresh?
Cresh. Alright fuck off Ian you cocky bastard. They said you'd be like this. They warned me. You are a fat shit. You aren't 'Beefy', you are a fat shit. I hope shredded wheat doesn't keep your heart healthy.

Dr. Ian Botham
6. Ok Bothy. Last question on the list. Define cricket in one easy sentence.
A.Botham. A game for a dead generation Cresh. Dead generation.
This interview was like battles 'Beefy' played many times in the cricket arena. A battle of wit and razor sharp skills. Unfortunately Ian is past it now.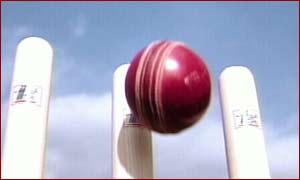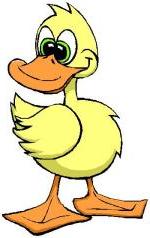 Out for a duck Ian, you shit.
Well what can we take from this I hear you cry? Take this away with you. Food for thought if you will. You can hit one for six or maybe a duck on the cricket field. Do not randomly hit ducks in the park. It's not funny to slap swans either.