Who is Crust?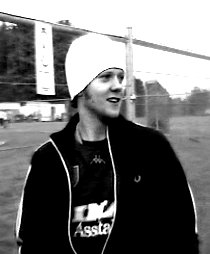 That is a very good question whoever asked. I think it was me. We'll ask my friend Slow Steve shall we?

This is Slow Steve. He rocks. He's a real mad head! If you're wanting to get to the bottom of something there is 100% chance you'll find him at the top.
Below is a detailed list of all the things I have so far achieved out of life...
Cresh aka 'Smith and Wessen Southpaw'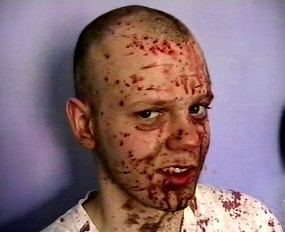 This is Crust. This picture was taken after I'd got back from the Royal Rumble of 1982. I was crowned champion for the third year running. That's not blood on me but a small pot of strawberry jam applied with a spatula. Old scare cuts.
England Crust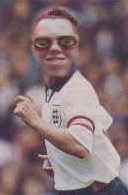 Well we all remember this picture don't we! This was me in my first full England International. It was a game against Cameroon. It was widely documented on as I scored a hat trick of hat tricks. It all went horribly wrong in the end. After that game the fame went to my head. I thought I was bigger than Ian Botham, I'm not, he is massive. After this game I'd be found dancing a dirty jig for a dollar. That's how I fucked my knee.
The big money move to Fife went down the pan.
Acting Cresh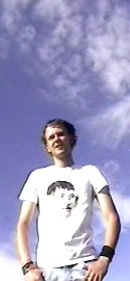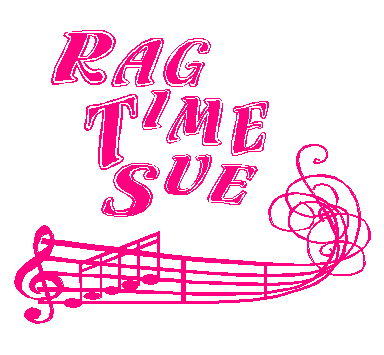 Well we've all heard of it! We've all got it on Vhs. Well now folks you can see 'Rag Time Sue' on the west end! I play the leading lady in the production. Rag Time Sue. A puzzled character who is not accepted within society as a male actor. He decides to become Rag Time Sue. A looker who wins the hearts of the males and the friendship of the females.
Sue starts at the bottom and dances her way to the top! A must see.
The guys of FHM gave it





out of





The ladies of Cosmopolitan gave it




out of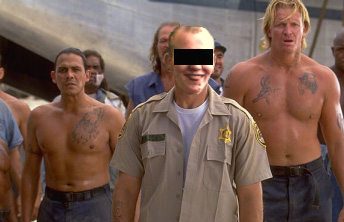 Well what can we say about this picture that hasn't already been said?
It's a screen shot of the 1986 smash hit
'Trooper's Hostility'
A film about one man's struggle against the law. Crust plays sheriff Josť who finds himself on the wrong side of the law. Alone and falsely imprisoned for a crime he did not commit Josť enlists the help of 15 cons. They escape from prison and take their fight to the streets! A heart warming tale of kinship and bonds that the law cannot break
The streets of Boston will never be the same!
Articles from the time.
'Truly incredible. One of the masterpieces of a generation' News of the World

'They say you could have slept through the '80s. I'm glad I didn't' The Sun.

'He acts with serenity and wit. This guy is a genius who's just found his stage' Daily Star

' It's fucked up mate. Proper fucked up' A man in the know.
Dance a Dirty Jig all the way back to the Main Page!